The Unicorn Project
by Gene Kim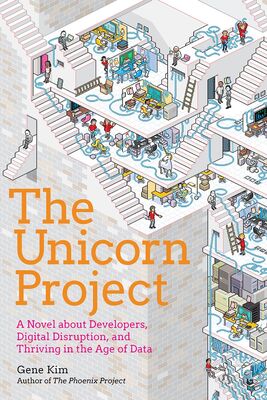 Boring. But let's start with good parts. I like how the second book looks at The Phoenix Project from another perspective. There can't be a more seamless way to connect the books. While the first book was about devops, the second is about developers. I enjoyed the part at the end when they were monitoring and fixing bugs in production. The chapter had a good pace and holds suspension to the end.
Unfortunately the second book is polluted with unnecessary details. Feels like the author wanted to show off how many cool words he knows.
The only educational part, Five Ideals, are almost forgotten as soon as they are introduced. The main character already knows it. While the story itself serves as their demonstration, ideals are detached from the reader.
The story line is turned into extremes. The main character is flawless god-like creature, while others are the most incompetent people in the world.
My favourite funny moment is when developers decided to use new technology, which they never used before. Without any experience the decision was to use it straight in production while burning bridges to the previous implementation. Unfortunately such reckless behaviour is delivered like a hero moment. It's like a surgeon decides to transplant the heart on a live patient without any experience or knowledge. 🤦‍♀️
In summary the book has great intentions but they are poorly delivered. Skip this book, it's not worth your time.